In the six years since we've opened our first location, Texas Chicken & Burgers has grown beyond our imagination. Coupled with the feedback-both good and constructive-we've received over the years, we truly feel welcomed in the communities we've opened in. However, there always comes a time in a brand's history that we start to think: "What can we do better? How can we evolve and grow with the times to better serve our valued customers?" Once we started down that train of thought, we quickly realized that with the changes we hoped to implement, we needed a new look, too. We needed something more streamlined and easily accessible, something more unique to our vision for providing filling, affordable food for everyone.
Changing from Texas to Tex's may seem simple, but achieving customer-friendly simplicity takes a lot of effort behind the scenes. We put in the time to explore many options, but in the end, we kept coming back to the recognition we've earned over time. It's common for people to say, "Let's get some Texas," and we didn't want to change that. However, the need for some change was apparent, so we decided to hit both needs with one word. By rebranding to Tex's Chicken & Burgers, we maintain that recognition and familiarity, while also creating a unique identity - Tex. You've seen Captain Tex's offerings many times, often in the form of the crowd favorite "$5 Tex Box." Now, we want to use Tex as a marker for change and improvement in our brand. And don't worry, we are and will always be a 100% halal brand.
With this rebrand, we are messaging that Tex's will be even better than before. Healthier options, delicious food, and a more user-friendly interface are all at the forefront of our minds. From our new locations that incorporate the latest technologies, to more rigorous training and better guest hospitality where our customers' needs matter most, we are reenvisioning Tex's. It all starts with an unforgettable and unique experience before you arrive at one of our 40+ locations.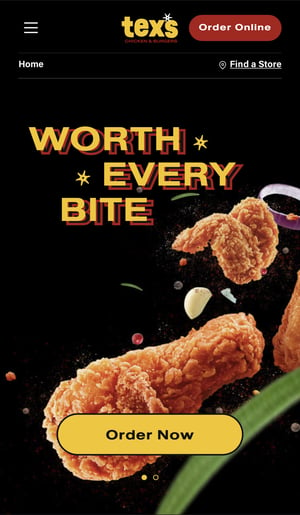 The brand new Tex's website, with the option to order online.
Launching today is our brand new website, redesigned from the ground up to be more accessible, and personalized to your needs. You'll have the exciting new option to create your own Tex's account that'll reward your cravings with our currency called "Spurs". . This account will give you the choice to place pickup orders, or get delivery straight to your home, and earn Spurs for every purchase. Need a full family box just in time for dinner? No problem. Place an order for pickup, and your food will be ready as you arrive, so you can get back home in time to appease even the hungriest family member and enjoy a meal worth every bite. And it doesn't have to be just through our website! You can visit the App Store or Google Play Store now and download the Tex's Chicken & Burgers app, letting you access all of that convenience right on your phone. We don't just stop there, you'll also gain access to our unique offers and deals, available exclusively to those with a Tex's account. As an acknowledgement of our customers unerring loyalty to our brand, those ordering through the app or our website can do so at a better price than anywhere else! So why not? It's a win-win situation: Enjoy our fresh, delicious meals, and be rewarded for it.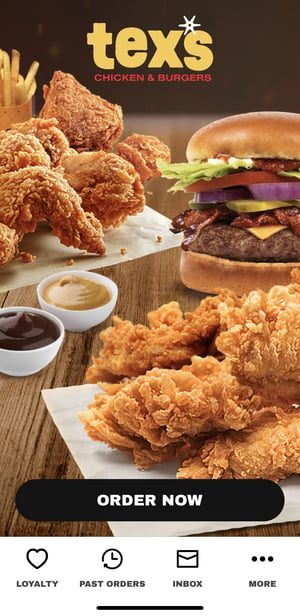 Our new app, available on the Play Store and Apple App Store.
Alongside this major launch, we are working tirelessly to improve our recipes and processes to bring the signature flavor you love consistently-Just the way you want it. With a new point-of-sale and back-of-house system we can ensure your every order is made just the way you want it. It doesn't stop there, either. We are ready to introduce new menu options to expand on our in-demand grilled chicken sandwiches and salad!
Tex's is a place to enjoy great food with the people you love, and every guest's experience is of paramount importance to us. We want your feedback, and now you can provide it directly on every location's landing page. This will empower your voice even more by ensuring that it is heard at your favorite Tex's location instantly. Such seamless communication with you will aid us in improving your experience with each visit. Your consistent and honest feedback has been and will continue to be an essential part of our continued success.
All of this change does not change the core values of our brand, however. We will continue to provide great halal food, at an affordable price, in an environment that is clean and organized. We will continue to work with leaders in our community to give back, and to support the people in need. We hope that you'll join us in this exciting step forward, and continue to support our vision!